It's the most wonderful time of the year… so we keep hearing, even in the grocery aisles as supermarket radios play a rotation of Christmas classics over and over and over again. (By the way, did you know the repetitive playing of festive music is unhealthy for retail workers!)
For many of us, the lead-up to December 25 can be a time of heightened stress—overeating, overdrinking, overspending—as we try to live up to the festive frenzy that's talked up.
For some of us, it's a time that brings back reminders of loss and regrets.
For 1 in 4 Australians— or 5.6 million of us —loneliness is something experienced continually or regularly, and felt more keenly at Christmas, Australian Red Cross says.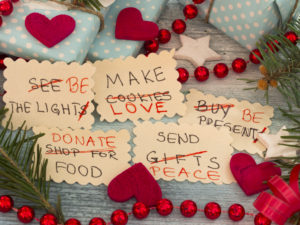 Husband and I were watching a 1980s Christmas comedy the other night – Scrooged, a modernisation of the Charles Dickens' classic A Christmas Carol. Through some 'visitations', mean-spirited TV executive Frank Cross (played by Bill Murray) is compelled to see the error of his ways and change his attitude about what matters in life.
Of his epiphany, Frank Cross declared that Christmas Eve was a time when everyone wants to "act a little nicer, smile a little … for a couple of hours each year we are the kind of people we always wish we'd be". He went on to suggest that we'd all like that calmer kinder feeling to be with us more than once a year…
Yes, Christmas Day is only once a year—but the kindness, the peace, the generosity of spirit (not stuff)—can be any day… when we choose.
Ways to spread more cheer and combat loneliness
We can, for example, help spread a little more cheer and combat loneliness by:
smiling to a stranger in the street
checking in on someone who may be alone (a phone call or a knock on the door)
welcoming a new neighbour
thanking someone who has helped us — the checkout operator, the barista, the bus driver
volunteering, even just an hour, to help others
laughing for the sheer joy of it.
In laughter yoga, we choose to laugh not because something is funny but because we can. We learn to reframe negative thinking —"the traffic's built up forever and I'll  never  get to where I have to be on time"—so that glitches in life are kept in perspective and not catastrophised. We learn to laugh at ourselves.
Through laughter clubs, we experience loving kindness, gratitude and connectedness every time we gather. Anxieties and loneliness dissolve.
Founder Dr Madan Kataria set 'health, happiness and world peace' as Laughter Yoga's mission. That's a beautiful thing to strive for 365 days a year.
Here's hoping you know better health and inner happiness and that together we can create a more peaceful world.
(c) Heather Joy Campbell 2017
Founder of The Happydemic, Heather Joy Campbell is a Certified Laughter Yoga Teacher and Laughter Ambassador of Laughter Yoga International. Based in Brisbane, Australia, Heather Joy delivers professional laughter wellbeing workshops, seminars and laughter leader training across Queensland and runs a weekly suburban laughter club as a community give-back.