While some of us in Australia are heading back to the city office at least some of the time now, plenty of workers are not, firming the place of virtual teams as a workplace norm.
The challenge for managers is how to create team camaraderie when we're not sitting in pods together or bumping into one another in the tearoom or in the lift.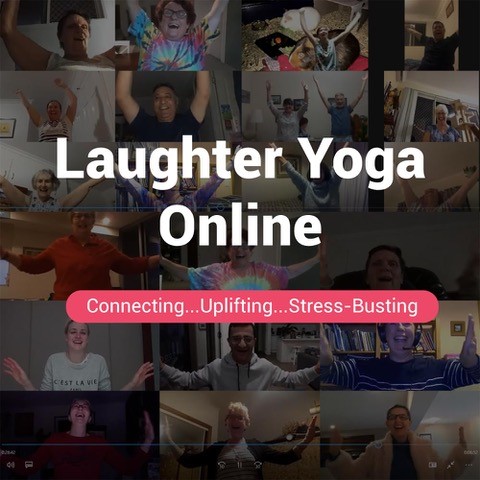 Laughter yoga is one way to connect the team, whether virtual or face-to-face.
Masks (the PPE variety as well as emotional ones) and egos comes down, judgement dissolves and barriers— whether hierarchy, age, or belief sets—come tumbling down during a workplace laughter yoga session because we all breathe and we all laugh in the same language.
Indeed the effectiveness of virtual laughter yoga sessions as team building exercises is never more evident than when delivering for national and multinational companies, bringing far-flung office team members together in a joyful creative space.
I'm increasingly hearing from businesses wanting to show appreciation to their workforce—not just at end of year reviews or with corporate internal reward programs, nor on designated days like during this week's International Week of Happiness at Work (we all want that, right?) or World Mental Health Day (10 October).
Now more than ever, workplace management recognises that hybrid and virtual teams need to be looked after. Individuals are under pressure—extended lock-downs and home schooling, for example, add to the frustrations and sense of isolation. Stress was in epidemic proportions before COVID-19. We want well beings.
What are the benefits of a team builder for work?
According to the 2020 State of Remote Work Report by Buffer and AngelList, 20% of remote workers are struggling with loneliness. Virtual team building activities won't erase that loneliness entirely but activities like laughter yoga sessions online can ease that feeling significantly.
According to Gallup, teams with high employee engagement are 21% more productive.
Benefits of laughter yoga for team-building
The exercises selected for a laughter yoga team-building sessions provide a number of workplace benefits:
Laughter yoga breaks down barriers.
Laughter yoga encourages a positive, energetic and relaxed environment.
Laughter yoga provides physical, mental and emotional balance.
Laughter yoga inspires creativity, productivity and communication.
Laughter Yoga Australia research has shown workplace wellbeing as the greatest lasting benefit of workplace team laughter sessions.
What to expect in a laughter yoga virtual session
As with face-to-face laughter yoga sessions, a virtual laughter yoga session involves gentle playful movement, clapping, stretching, laughter and deep diaphragmatic breathing, wrapped up with a meditation practice.
No prior experience is required, it is suitable for all abilities and there's no need for yoga mats or special exercise clothes. Virtual sessions are best done with camera and sound on, and can be done seated or standing.
With Mental Health Week in Queensland from 9 to 17 October—and the end of the calendar year not far behind—laughter yoga sessions could be just what you've been looking for for your workplace team. Let's talk about gifting wellbeing through laughter for fun and effective team building activity that's absolutely happiness at work.
Australian Heather Joy Campbell, a seasoned laughter wellbeing professional, swapped headlines and deadlines, bottom lines and political one-liners for laughter lines in her pursuit to understand workplace wellness better. She is not a comedian.