I purchased a bed on the weekend. Actually, it's not just 'a bed'. It's a serious investment in my sleep hygiene (and The Keeper's wellbeing too).
What started out as us going to the shops to 'have a look' ended in us being won over by great customer service that began with a smile. Research backs our experience: the smile is possibly the most undervalued 'tool' workplaces have at their disposal.
How a smile made a ka-ching difference
We'd already been in one store, wandering around looking at mattress after mattress, identically displayed. A retail assistant had raised his eyes briefly from a mobile phone screen as we'd entered, and then gone back to it. After a few minutes, we'd exited.
In this shopping centre there was another mattress and bed shop right next door. Again, we were confronted by row upon row of mattresses. A staff member was walked past from the back of the store, her hands cupped around a piping hot mug of coffee. She looked over at us, smiled, and asked if we needed assistance.
"Yes please," we said in unison.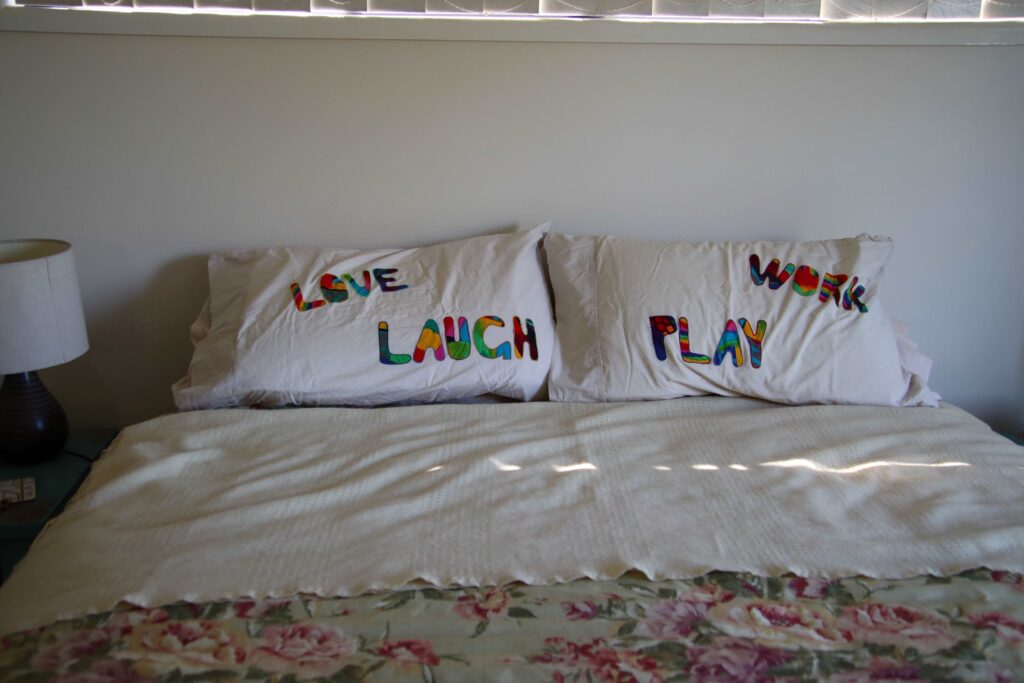 "I'll be right with you. Let me put this down."
Almost one hour, many smiles, questions about our sleep habits and technical insights later, that coffee was stone-cold and a sale was complete.
It's possible that the salesperson in the first store had had a bad night the night before, was resolving a conflict; maybe feeling unwell and making a doctor's appointment. Maybe a colleague hand't shown up and he was chasing a shift fill. We'll never know. What we, as customers, felt was invisible.
What a smile says and does
Staff can be brilliantly trained in the technical aspects of their job, know the product inside out, but if they lack that very human element of a smile, they may not clinch the deal.
A smile—and it can be the non-visual sense of a smile for telephone customer service representatives—communicates a state of mind. It says 'welcome, I'm glad to see you' (as opposed to a disinterested glance up from a mobile phone screen)
A smile conveys an attitude of gladness.
A smile extends an invitation to connect, build trust and cooperate with one another.
In another setting, a sense of calm and a gentle smile can ease tension in a room full of anxiety and uncertainty, especially when decision-making is needed.
It's also important to remember that if you're feeling low or bothered yourself, the act of smiling not only turns that frown upside down but can lift your mood too. (That's not to say forever 'force a smile' if you have persistent anxiety or depression symptoms: do seek medical help.)
How smiles boost your work environment
A smile is a simple gesture that radiates outward and it's one contagion we want to pass on.
When a customer smiles, it means business is on the right track. Around 73% of customers say they fall in love with a brand thanks to friendly employees. Studies also show more than half of customers will willingly spend more money with companies that provide excellent service.
A smile elevated our experience in that bedding store and transformed 'just shopping' into a positive interaction – KA-CHING! – that has left a lasting impression of not just the retail assistant but the store name.
Smiling catches on with employees too. Every time someone smiles, they are throwing a little feel-good party in their brain, activating neural messages that boost health and happiness. Their positive vibe rubs off too. The upshot of that is greater productivity and loyalty, lower staff turnover and absenteeism. You know how it is: you want to go to work when you're part of team that gets on and is welcoming.
How The Happydemic helps grow workplace smiles
In my work as a laughter yoga facilitator, I'm often invited into a workplace to facilitate sessions that encourage team members to destress, connect and work well together.
The sessions involve a lot more than laughter although there is that, most certainly.
We explore the power of mindset, the breath—and smiling.
Sometimes I'm invited as a 'bit of fun' to reward a team's hard work.
Sometimes I'm invited when workplaces need a little help to boost that content and connected feeling: restructures, job shedding, high volume work demands all can create stress and affect mood, all the more so if staff don't feel valued.
Sometimes I'm invited when a workplace comes together to plan a way forward and wants to encourage out-of-the-box thinking, encouraged through playfulness and an element of fearlessness that with trust.
That's where The Happydemic workshops come into play literally.
If you're a 'customer-facing' business, I welcome the opportunity to work with your teams in delivering in-person* feel good, work smarter laughter yoga sessions tailored to your workplace needs. Let's talk!
*limited to Moreton Bay, Brisbane and Sunshine Coast, Queensland
(c) 2023 HeatherJoy Campbell
Founder of The Happydemic, Queenslander HeatherJoy Campbell blends laughter yoga practice with science of happiness techniques. She's been presenting workplace workshops since 2016.