Queensland Seniors Week is celebrated between August 17 to 25 . It's a time to honour our older members of community, and seek a Queensland that is for all ages.
What better way to celebrate than with a laughter yoga session, since laughter yoga is for all abilities, and all ages.
I'll be leading The Gap Laughter Club's session on Saturday 17 August with a playful theme on ageing.
This outdoor gentle exercise session is at 9am at Walton Bridge Reserve, Waterworks Road, The Gap. The driveway entrance is opposite Jevons Street. The session will go for 40 minutes.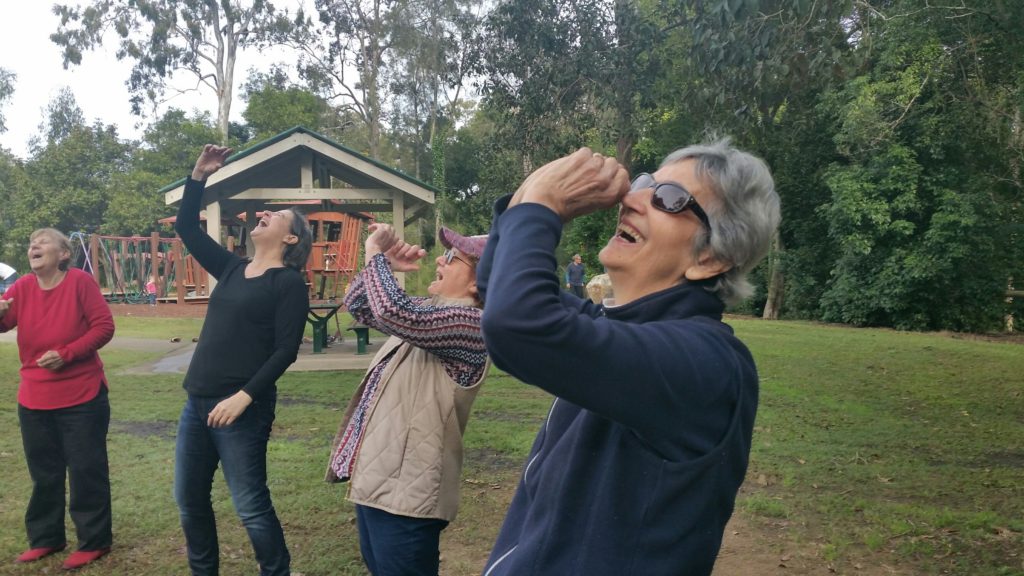 Participants at The Gap Laughter Club enjoy the milkshake laughter yoga exercise.
What's involved in laughter yoga?
Laughter yoga is a joyous playful exercise regimen. It combines clapping, laughing (without jokes), gentle stretches and slow deep breaths. Our park sessions are done standing and moving around, so a degree of steadiness is important. This is unlike the laughter yoga sessions that I deliver in aged care settings which are always seated.
What do I need to bring?
Wear clothes you are comfortable moving in. There's no need for special exercise wear. Do wear flat shoes. Bring bottled water as laughter yoga can be thirtsy work. A gold coin donation is appreciated.
Why would I want to do laughter yoga? It sounds silly!
Laughter yoga can feel 'silly'. It is certainly playful. Sometimes it may feel like you've gone back to the playground and taken a leaf out of the book of a 4-year-old! Is that such a bad thing? They laugh without humour because they are fascinated by life.
Here are just 5 reasons why seniors love laughter yoga:
Laughter yoga is proven to help strengthen the immune system.
Laughter yoga is like a tonic that overcomes feels of anxiety, frustration, depression—even grief.
 Laughter yoga encourages deep diaphragmatic breathing.
 Laughter yoga encourages social connection.
Laughter yoga lifts spirits in just minutes.
As the saying goes, we don't stop laughing when we grow old, we grow old when we stop laughing!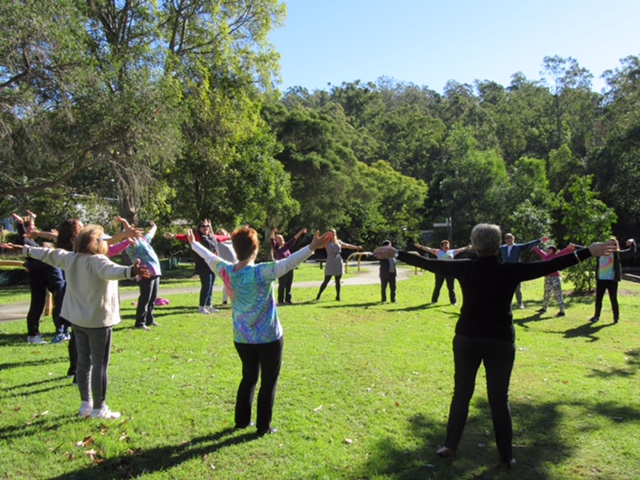 This laughter yoga session in a Brisbane neighbourhood is a small step towards encouraging an all-age friendly, connected Queensland. Contact me if you need any more information: let's laugh!
(c) 2019 HeatherJoy Campbell
Heather Joy Campbell is a Brisbane-based global ambassador for Laughter Yoga International. A certified laughter yoga teacher, she delivers workplace, community and aged care laughter wellbeing sessions throughout south-east Queensland, returning home for laughter club on Saturdays at The Gap.