Consumer-centric. It's a buzzword we increasingly hear from community service agencies and service providers as the likes of My Aged Care and the National Disability Insurance Scheme (NDIS) roll out in Australia.
Essentially it means consumers—in these cases, frail aged or people with disability—determine how they want their supported funding spent, by whom, on what and where. As consumers become better educated, they are going to ask for what they want and these may not always be traditional services.
Feros Care has provided residential aged care in northern New South Wales and home care support services in NSW and Queensland for about 25 years. It prides itself on always having focused on its clients' needs.
In November 2017, I trained 16 Feros Care staff members in laughter yoga techniques, specifically for frail aged participants.
The back story to how this occurred exemplifies 'consumer-centric service'.
A few months earlier, a bright-eyed 80-something-year-old resident at one of the Feros Care residential communities said she wanted more laughter in her day—and she offered a way of making that happen.
Until moving to Kingscliff a year or so ago, Cleo had lived in Brisbane and often visited New Farm Park on a Saturday to meet friends and family. On the way to those catch-ups she often noticed a group of people laughing under a huge Moreton Bay fig tree. She had  always meant to stop and join in but there were places to be, people to meet—and she couldn't foresee the accident that would cut short her independent living…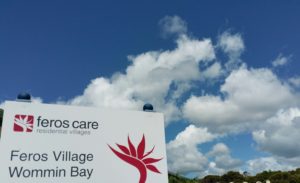 Since her move, Cleo had recalled the jolliness and pondered the activity of those people in New Farm Park. A family member net-surfed and discovered it was Brisbane Laughter Club (where my own laughter yoga journey began!).
Cleo mentioned that she'd like more laughter in her days to the Feros Care's Positive Living manager, Jennie, who jumped online to learn more. Jennie and I talked … about the practice of laughter yoga, its adaptability and the health benefits. We talked some more. Jennie was going to enrol in the generic certified laughter leader training program I deliver. Then someone else wanted to… and another and another until the question was asked: could I develop and deliver training for their seniors-specific audience?
The tailored 2-day training saw Feros staff learn how to present 1-on-1 and small group sessions for frail aged and those with dementia—as well as covering the broader community.
A week after delivering the training, I travelled to Kingscliff in northern New South Wales to observe Wommin Bay Village's first laughter club gathering. About 20 residents took part in a joyous half hour of hand clapping, gentle stretches, deep breaths and laughter exercises—without a joke being told.
As the session wound up, the circle of seated participants tapped their bodies gently to a tune they were familiar with, whose words had been twisted. Instead of Mamma's little baby loves shortening, shortening', a terrific trio from Feros Care—Lisa, Alex and Jane — sang 'Every little cell in my body is happy, every little cell in my body is well'. As the words faded, faces remained lit up. Cleo was positively radiant; so pleased to have initiated a fun healthful new exercise program that provided everyone with 'sunshine on the inside' as one Feros Care staffer described it.
As I walked out of the activity centre, staff were being asked 'when will be having that fun time again?'
The answer to that question is that laughter yoga is practised weekly at Feros Care's Kingscliff residential aged care village and regularly at its Bangalow village too.
Consumer-centric Feros Care didn't just listen to a client's needs. It equipped staff with skills to bring more joy, laughter and wellbeing into frail aged, and more hearty but ageing, clients' lives, any day, while giving employees a lighter, brighter outlook to boot.
Interested in bringing more laughter and joy into the lives of seniors you work with? Perhaps you see a need to lighten and brighten your workforce's outlook. Let's talk about how I can deliver laughter yoga as wellbeing sessions for you —or train your people to deliver long-term.
(c) Heather Joy Campbell
Founder of The Happydemic, Heather Joy Campbell is a Certified Laughter Yoga Teacher who brings laughter wellbeing sessions and training to workplaces, seniors centres and communities across Queensland, Australia.