Dr Arul Kumaran works for the Ministry of Health Malaysia (Hospital Sungai Buloh). He's worked in emergency medicine and mental health for many years: he was part of Malaysia's response to the earthquake in Nepal last year and was a member of the psychological first aid team for families of passengers on board the Malaysian airplane MH370 that disappeared in flight in March 2014.
We met in March 2016 in Bangalore, buddied up during Laughter Yoga training with founder Dr Madan Kataria. On Day 1, Dr Arul was sceptic. Little more than one month later, this senior government medical practitioner is dispensing healthful doses of Laughter Yoga to colleagues in the workplace. I had to find out more…
Dr Arul, remind me what brought you to Laughter Yoga training in Bangalore.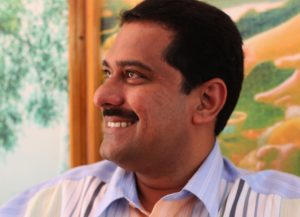 I had searched for various modalities of therapy to help a small subgroup of patients who do not fall into the serious mental health category. I came across this (Laughter Yoga) program by chance on the internet and I recalled my college days, when in 1993 I used to walk past a few elderly people laughing in the park in Bangalore on my way to medical school.
And you were sceptical…
As a medical professional who believes in evidence-based medicine, yes, I was a sceptic initially, and then as I experienced the effects of Laughter Yoga and heard lots of testimonials from participants from around the world during the course, I turned into a 'believer'.
That's quite a turnaround. Yet what you've gone on to do since returning home is not with patients: it's with hospital staff. Explain that.
Hospital directors are keen for newer stress management techniques to keep their staff from the burnout syndrome.
My first presentation was met with good response from participants from Hospital Tawau, in the eastern state of Sabah. There were surgeons, anaesthesiologists, medical officers, nursing matrons, nursing sisters, staff nurses, bio-science officers. I also have received requests for another eastern state health facility called Hospital Bintulu Sarawak which is in the interior of Sarawak state.
What would you have used previously?
I would have recommended deep breathing exercises for stress management.
And what is your professional opinion of Laughter Yoga for patients with mental health issues?
Laughter Yoga is suitable for cases like dysthymia (persistent mild depression) or adjustment disorder. I do see its application as an additional tool, as a stress relief tool, to prevent stress-related disorders or burnout through absenteeism and psychosomatic complaints.
LY cannot be used for chronic mental illness such as schizophrenia, bipolar disorder, major depressive disorder or severe anxiety like panic disorder or patients with high suicidal tendency.
 (c) Heather Joy Campbell 2016