2021 — a new year, a new decade; new chances too.
I recently wrote about how the practice of laughter yoga — so much fun that it is — can seriously help you stick to New Year resolutions.
That's because laughter yoga's benefits are many and varied: physical, psychological, and social.
Throughout 2020, laughter yoga online proved its worth as an exercise, a de-stresser and a connector online
I'm delighted to be re-opening HeatherJoy's Happydemic Laughter Playroom on Sundays from 10 January 2021. The sessions will start at 6pm (AEST). (*Please note, the dates and times refer to Brisbane, Australia.)
How to be a part of this laughter yoga online on Sundays
You will need to register with Eventbrite to get the login details. You can do this up to 60 minutes before a session starts.
This is the link for registration: https://www.eventbrite.com.au/e/the-happydemics-laughter-yoga-playroom-tickets-135421355921.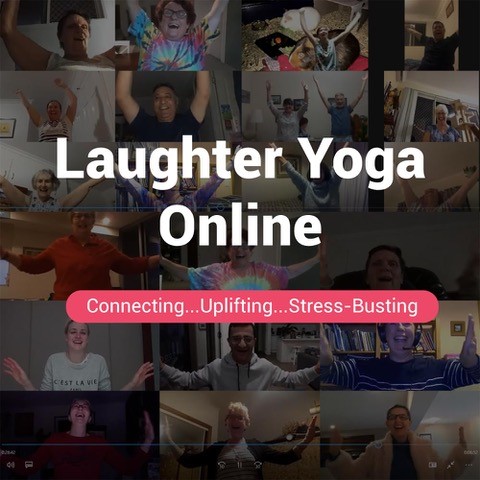 I use the video-conference platform, Zoom.
You can register up to one hour before the session starts.
On registering, you will receive the unique URL and a password.
THIS session remains a community giveback like The Gap Laughter Club, the weekly social in-person laughter club in my home city of Brisbane, Australia.
What time is it elsewhere?
You can work out the time difference, comparing Brisbane with where you are using this world clock calculator.
Other Australian laughter online options
You don't have to be in Australia to join Australian laughter yoga online! Laughter is universal.
Australia is a big country with a number of time zones. For simplicity, I'm listing options on other days according to the day of week and whether it is morning, afternoon or evening — along with a email contact, for you to follow up on details:
I hope you will register and that together we can spread a happydemic of wellbeing, through laughter, in 2021.
Appreciatively,
HeatherJoy