Here's what people have said about Heather Joy's professional Laughter Yoga services:
Many conference attendees nominated this workshop as the highlight of the entire conference. It was an interesting, engaging, and thought-provoking session, while providing tangible benefits to takeaway to use after the workshop. We had plenty of sceptics going into it, however they were won over by HeatherJoy's positivity and fantastic presentation style.
Heather Joy came highly recommended from our team in Brisbanefor a Laughing Yoga session. Heather was fantastic to work with pre-session and the team had an absolute ball doing a virtual session. We had participants from all over Australia and they thoroughly enjoyed themselves. Great way to lift the team's spirits.
Heather Joy ran a fantastic Laughter Yoga session for our support team at Lutheran Services. At a time where we were facing a number of changes, it was a great opportunity for us to laugh off some built up stress and come together as one team. Any reservations we initially had were quickly evaporated by the positive enthusiasm of the group. We ended the session feeling cheerful and positively orientated. It was a great team building experience.
Our ladies range in age from 21 to over 60 but age had no relevance. Heather Joy delivered a fun and relaxed session and I watched the stress of the day simply melt off my ladies' faces. The joy that replaced it was invigorating. Heather Joy helped us find the little kid in ourselves and we gained new ideas for stress-busting and mood-boosting in our daily lives. Today while driving I got caught behind a slow, inattentive tourist who I fear was a liability to all on the road. What was my first instinct? I laughed, I giggled and suddenly my frustration gave way to calm and confidence. Thank you Heather Joy.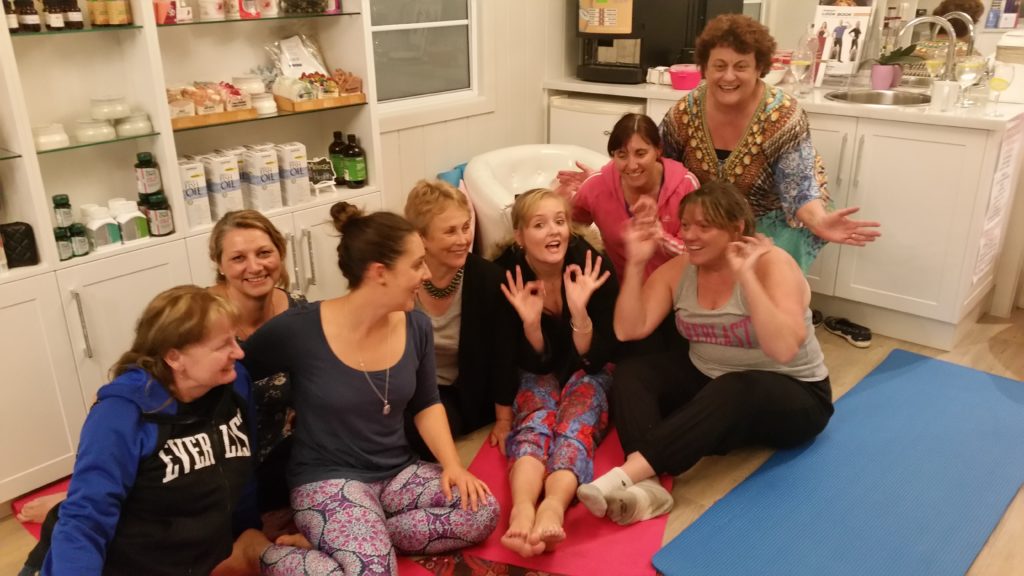 Thanks so much for your wonderfulness. A terrific vibe in the room and lots of joyful noises and smiling faces.
Highly recommend HeatherJoy and her sessions for clients/customers or staff. Carers love joining these sessions and have provided wonderful feedback. We identify the benefits of laughter yoga can be far-reaching: physical, psychological and social.
I'd been interested in laughter yoga for years but hadn't had the opportunity to participate until it went online. It's great exercise for the lungs, I feel recharged inside and have a fresher outlook. IT's also assisted to build my resilience.
After several weeks of attending HeatherJoy's sessions online, I feel as though Laughter Yoga is working its magic and helping me lighten up inside.  I laughed until I cried this evening soon after my husband came home from work. It was some small interchange that happened between us; I can't even remember what it was but I also can't remember the last time that I did that. It was BRILLIANT!
It was unlike anything I've ever experienced before, totally out of my comfort zone and I LOVED IT! I truly believe each and every one [of the participants] will take something away from today and be able to bring a little dose of laughter into their everyday lives as carers. I know I will be!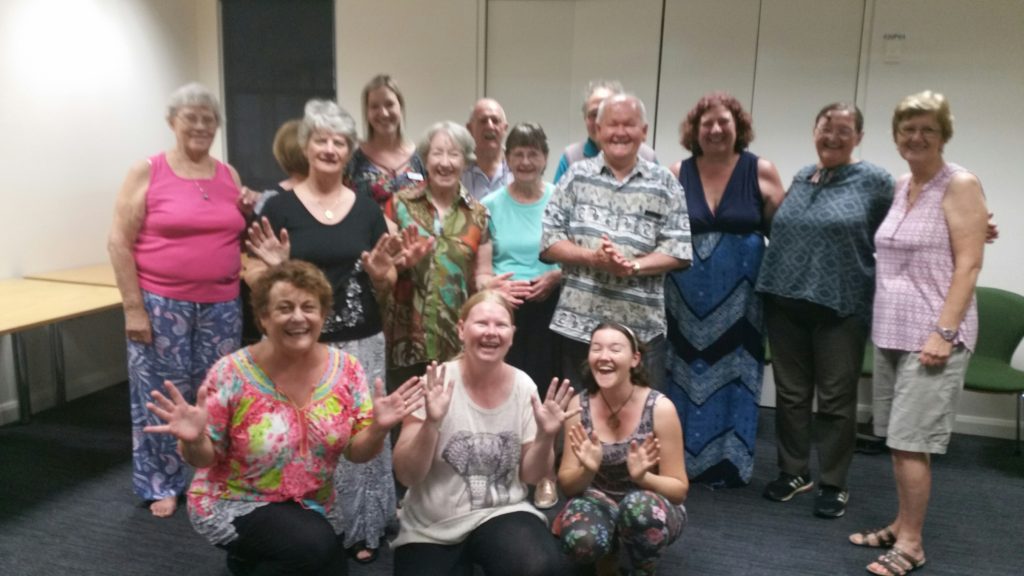 Seeing almost 300 staff (attending CQUniversity 2016 staff conference) up out of their chairs and laughing with each other was something not previously experienced in our academic world. I encourage other corporate organisations and educational institutions to try laughter yoga: HeatherJoy made it a laughing success.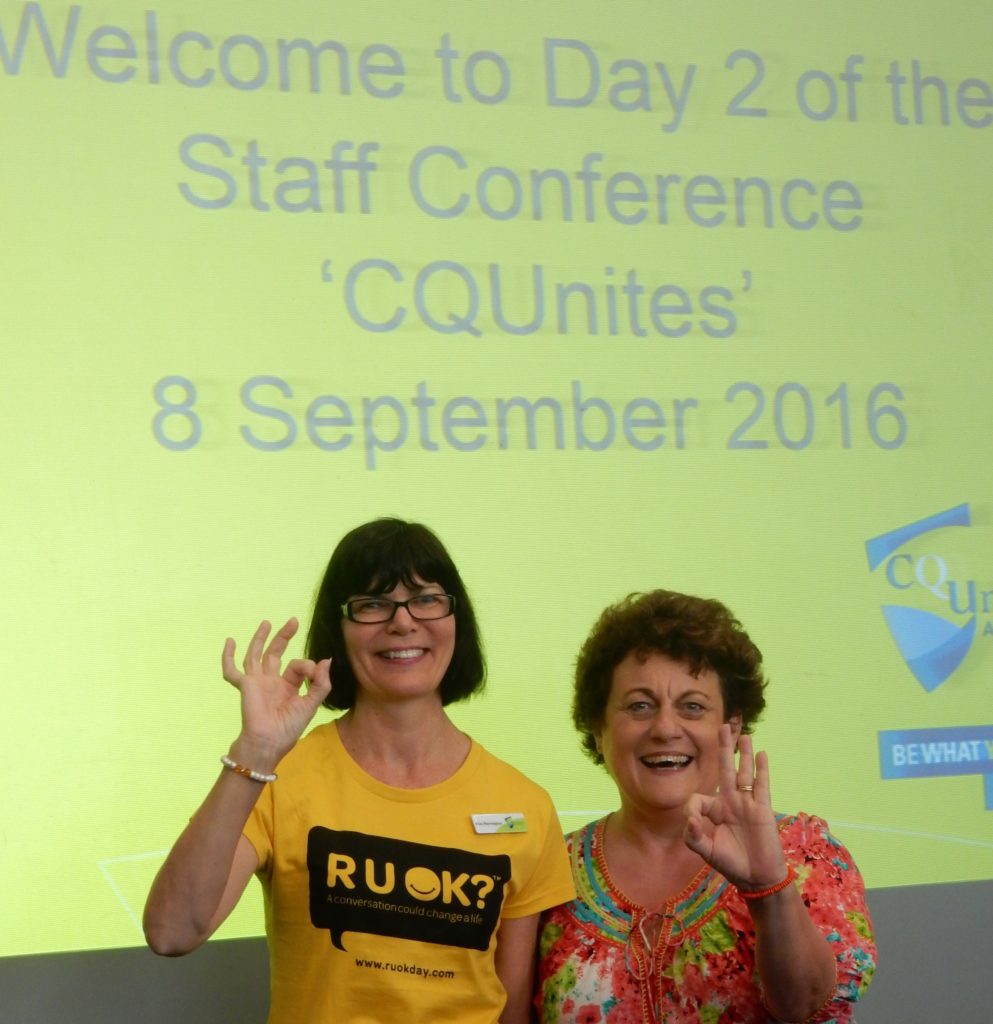 Heather Joy's laughter yoga session was the most fun I've had at work in a long time! Our team seemed to enjoy the event, and it was great to do it as a group – a team building exercise in itself. I definitely got a dose of therapy and endorphins, a work-out for my lungs, and came away with a new tool to de-stress at the end of a day.