Earlier this month, not-so-coincidentally on World Laughter Day (May 7), a significant addition to the library of books on wellbeing was launched in Australia.
The Laughter Effect: How to build joy, resilience and positivity for your life is by Melbourne-based positivity coach and adjunct lecturer at La Trobe University Ros Ben-Moshe.
This book does far more than present the science behind what's meant when you hear the saying 'laughter is the best medicine' – because yes you've read its benefits before and you know laughter helps to destress, to refocus our outlook on life, to be in the moment, to reframe…
Physical and psychological shift really happens when we laugh — or even simply smile. Find out how to tap into that laughter mindset, experiencing what Ros Ben-Moshe has coined 'the laughter effect', within these pages.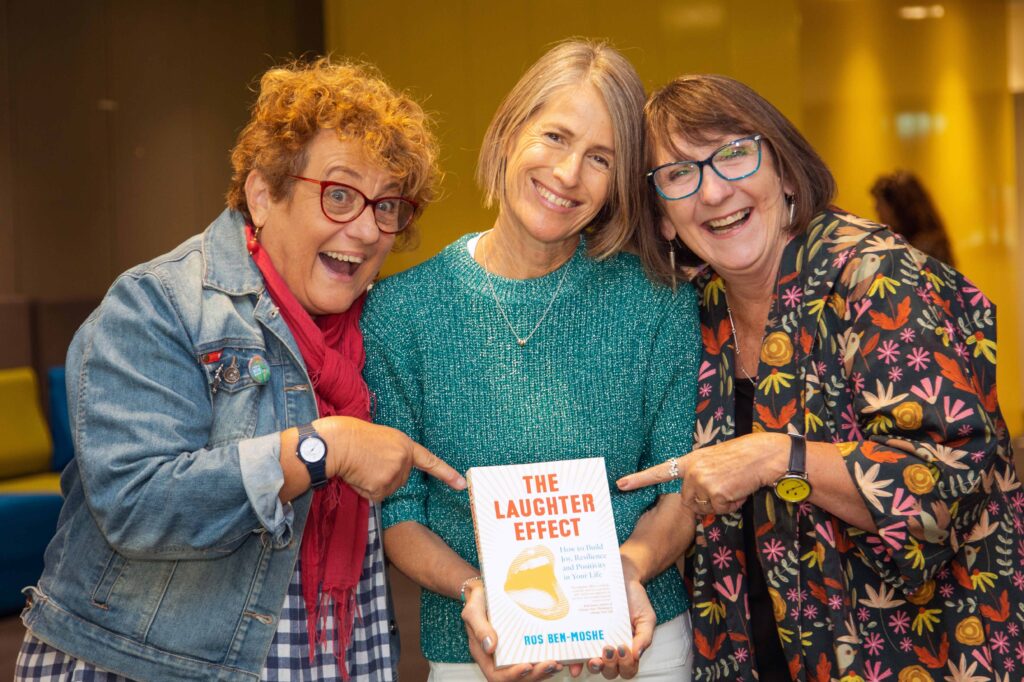 Ros (pictured above, in Melbourne with yours truly and another incredible Victorian practitioner Bron Roberts) has been exploring the healthful benefits of laughter for about 20 years, coming across the practice I'm most passionate about, laughter yoga, at a WHO global health promotion conference in Melbourne. It was, she says, 'impactful'. It gave her something that years of consulting doctors for chronic fatigue had failed to do – and she wanted to understand more of the how and why.
The Laughter Effects pulls together the latest in positive psychology and neuroscience from around the world, and is sprinkled with suggested activities to try. She also generously shares clients and her own lived experiences of putting the laughter effect into practice.
Indeed, the penny dropped that laughter, a smile, a thought of gratitude and some loving kindness to herself were all interlinked on Day 8 post-op of a bowel cancer operation 10 years ago.
Seeking to distract and shift her mood, Ros started mapping reasons to be grateful for her situation on a paper placemat. Absorbed in the exercise, Ros suddenly noticed that rather than being wracked with pain, she was beaming. "I was embodying the energy of joy – a whole bodied smile if you will. Whilst the ability to laugh out loud was still a few weeks away, I had stimulated my body's wellbeing hormones, such as endorphin, to go into freefall."
Little wonder that The Laughter Effect includes a chapter on joyful journaling through the lens of gratitude for psychological resilience.
"I discovered that the pathway to a laughter mindset expands beyond physical laughter into developing both one's inner and outer smile, connecting to the essence of joy and wellbeing."
There's so much within the 240+ pages of this book. We all have this health-giving goodness within us: sometimes we just need some direction to reconnect it.
Find out for yourself. The Laughter Effect: how to build joy, resilience and positivity in your life can be purchased at all good sellers across Australia as well as through Booktopia, Amazon, Apple Books and publisher Nero. It's also available as an audio-book..