The first Saturday of July 2016 was a day of note in the Australian suburb of The Gap and not just because of federal politics.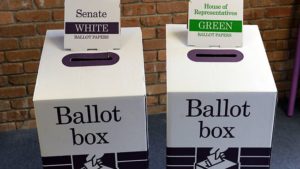 Yes we lined up to do our civic duty and vote in the federal election—remember how ridiculously long the Senate paper ballot was?
And we queued afterwards to partake of a gastronomic tradition as important as exercising our right to vote—a barbequed sausage on a slice of bread, on this day referred to as 'a democracy roll'.
But before any of that, on this day in 2016, there was laughter in a park in The Gap. It was the first gathering of The Gap Laughter Club – the Kookaburras.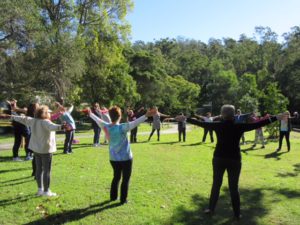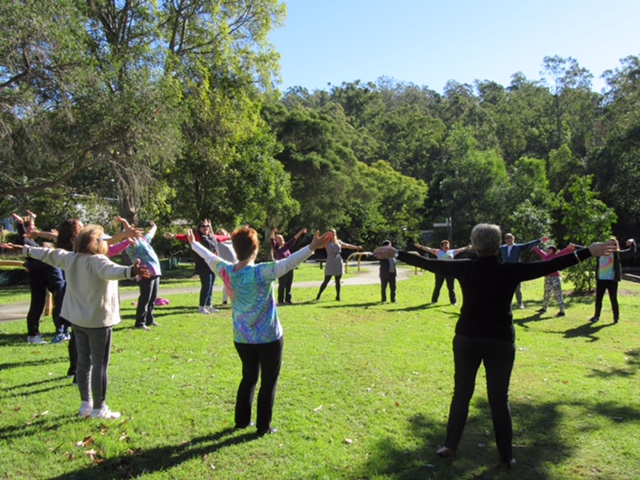 Its formation was spurred on by Laughter Yoga's founder Dr Madan Kataria challenging me (HeatherJoy Campbell) to leave the nest of well-established Brisbane Laughter Club – New Farm (my safe haven) and encourage growth of the laughter yoga movement at a community level though a new club. And so I did – (as well as facilitating in this past year the establishment of two regional clubs in Queensland in Rockhampton and Cairns and planting the seeds for more through training laughter leaders). I will never forget that first session at The Gap (pictured right). It was amazing—as have all laugh-outs been since.
Laughter clubs are the heart and soul of the laughter yoga movement. There tens of thousands of these hubs of joyousness in some 110 countries. Laughter yoga is not about yoga poses or stand-up comedy. It's a combination of exercises that evoke laughter as a physical act and the deep restorative breath of yoga, mixed with a great dollop of playfulness. It's a wonderful antidote to the crushing seriousness of 'life' – and good for you, physically and psychologically.There is no joining fee or membership registration to become a laugher. People simply turn up. And if they enjoy it, they keep coming. There is no payment to laughter leaders either. We do it out of 'love', as volunteers giving back to our community. 
Personally, I've revelled in witnessing participants connect, make new acquaintanceships, even friendships beyond laughter. To hear of people sharing cuppas, going for walks etc on other days makes my heart sing. This is community building. To see worries disappear and faces light up is priceless. It is such a privilege. Surely local government councils can but support such a healthful connecting activity and want them in their communities?
To all those who have given laughter yoga a go in the past 12 months at The Gap, I say 'pay yourself on the back for giving something a little different a go'.
To those who have not only given laughter yoga a go in the past 12 months at The Gap but have shown up repeatedly, I say 'Very good Very Good YAY'. I sincerely hope you are able to take the reframing of life through laughter into the other days of the week!
And to those who have shared the leading of this merry chorus of Kookaburras – Leanne, Maureen and Dave – thank you for giving this volunteer-based non-profit community initiative the continuity to blossom.
Together we are making our community a little more connected, a little healthier, a little more resilient and a lot more joyous.
The Gap Laughter Club celebrates its first birthday on Saturday 1 July 2017 at Walton Bridge Reserve, Waterworks Road, The Gap (entry opposite Jevons Street) with a laughter session starting at 9am. The laugh-out will conclude with cake in the park and spill over to Café Tara around 10am. All are welcome. Gold coin donation appreciated.
Joyfully
HeatherJoy Campbell