Laughter Yoga for Seniors
Looking for fun activities for aged care residents, to support mental, physical and social wellbeing?
Therapeutic Activities for Seniors
Are you seeking effective, group-based activities for seniors – including aged care residents? What about something that promotes physical activity, cognitive stimulation and emotional wellbeing? What if there was something that was fun and social too?
When it comes to therapeutic activities for seniors, you really can't go past laughter yoga.
Why Laughter Yoga for Seniors?
Laughter yoga—involving playful movement, mindful breathwork, clapping, gentle stretches and laughter—is a wonderfully uplifting exercise program.
It can be performed indoors or outdoors, by people of all ages and abilities.
Science-based research repeatedly shows laughter is good medicine.
Yet ageing isn't for sissies: it can be tough getting older and there can be times when it seems like there is nothing to laugh about.
That's where laughter yoga comes into play.
Australian research published in The Australasian Journal on Ageing recommends laughter yoga as one of the regular activities for aged care residents, because it creates an environment that is fun and brighter for both residents and staff.
Measurable health benefits were seen in:
blood pressure,
pulse,
and mood.
Now that's something to smile about!
Read the full research paper here.
Train Your Team Members to facilitate Laughter Yoga for Seniors
The best way to incorporate laughter yoga and its many benefits as part of your regular activities, is for your staff members to receive training from Queensland's leading expert in laughter yoga, Heather Joy Campbell from The Happydemic.
Feros Care did, and share their experiences: "Laughter Yoga sessions are now on the calendar each week at our villages, the residents love them and to see their faces light up and hear the buzz of conversation and giggling after each session is wonderful."
Find out more about aged-care specific training brought to your organisation – it's ideal for support workers, diversional therapists and activity and lifestyle officers.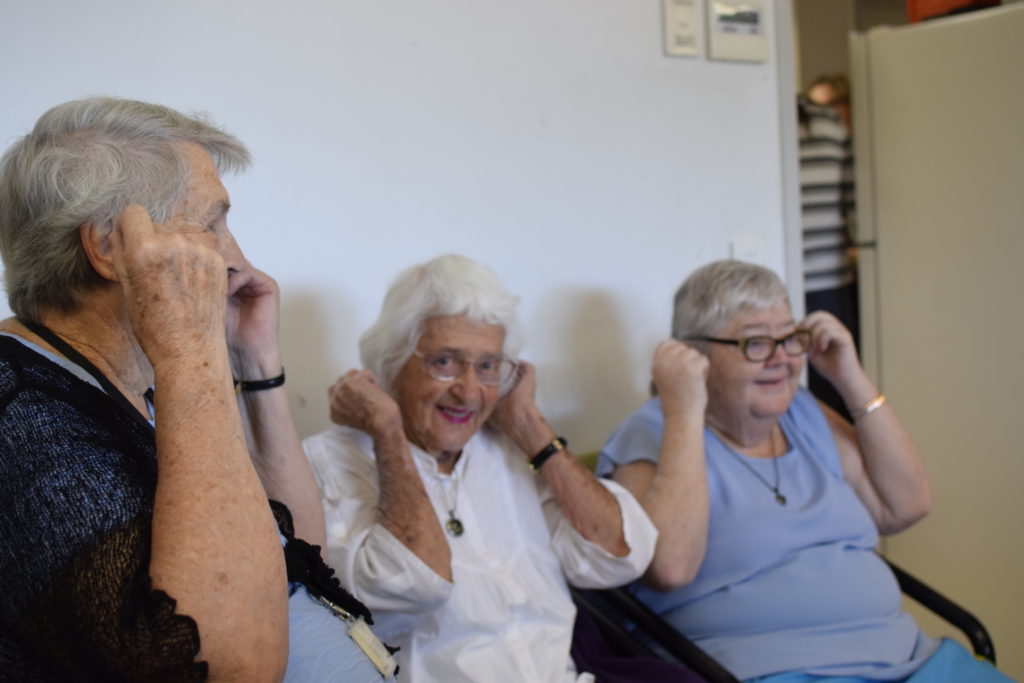 The Happydemic provides Laughter Yoga for Aged Care Residents
The Happydemic's Heather Joy Campbell delivers 30-minute in-person laughter yoga activities for aged care residents and day respite centre participants in the following postcodes:
4017, 4018, 4019, 4020, 4021, 4022, 4034, 4035, 4500, 4501, 4502, 4503,4504, 4505, 4508, 4509, 4510.
Heather Joy Campbell's seated laughter yoga for seniors sessions are a group-based activity. They are gentle, playful, joyous, and interactive. Let's talk now about your activities calendar.
5 Reasons Seniors Love Laughter Yoga
Proven physical benefits including strengthening the immune system.
Supports good mental health, working instantly like a tonic to help beat feelings of depression, frustration, anxiety; even grief.
Connects people and dissolves loneliness.
Requires neither knowledge nor understanding of jokes — it's not about comedy.
Encourages a brighter, more positive attitude to the everyday.
Download a brochure detailing benefits of Laughter Yoga for seniors (PDF, 1MB)
There aren't too many fun activities for the aged which support emotional, cognitive, physical and social benefits! Contact Heather Joy Campbell on 0412 742 593 or use the Contact Form to find out more about how you can make Laughter Yoga part of your aged care of day respite program.