Laughter Yoga Training:
Become a Certified Laughter Yoga Leader
Become a Certified Laugher Yoga Leader with our in-person Laughter Yoga Training in Brisbane
This is an action-packed, content-rich program which will only come to fruition through doing. Spread the benefits of laughter yoga in your community!
Equip yourself with mood-enhancing, stress-busting laughter yoga skills in this 2-day Certified Laughter Yoga Leader (CLYL) training, an internationally recognised qualification set by Dr Madan Kataria and Laughter Yoga International. 
The Certified Laughter Yoga Leader course is almost certainly the most fun training that you'll ever enrol in – with seriously positive impacts.
It's an ideal addition to pull out of your 'box of tricks' to help colleagues, clients, students or friends destress, refocus and feel good.
Ask your employer about Continuing Professional Development (CPD) points — this course is all about wellbeing.
The Certified Laughter Yoga Leader course is the minimum needed to run a laughter club – free volunteer-based community social sessions in your neighbourhood. If you want a club near you, this is the course to do. It is strongly recommended  that you develop your confidence and laughter yoga and facilitation skills with friends and neighbours in a 'laughter club' setting: two days does not make you a pro!
This workshop may also be suitable if you want to use the basic laughter yoga skills in places that you work in such as aged care centres or schools, or if you are a yoga teacher in a yoga studio wanting to diversify.
There's theory involved—the history, concept, philosophy and techniques—but the emphasis is on doing: laughter yoga training in a safe, supportive, empowering environment. 
Who does Laughter Yoga training? 
Some of the past participants include: psychologists, nurses, aged care workers, counsellors,  disability support workers,  teachers, sales people, personal trainers, yoga teachers, life coaches, team managers and HR personnel.
Then there are people who LOVE their community and want to giveback in a volunteer capacity through a laughter club.
Who is the trainer?
Global Laughter Ambassador, Certified Laughter Yoga Teacher and Australian Institute of Management-trained trainer Heather Joy Campbell runs the 2-day Certified Laughter Yoga Leader training in Brisbane. Heather Joy also travels to regional and rural centres across Queensland to run training, if there's local demand*.
What do you get for the training?
16 hours of intensive in-person training on the science and the techniques of laughter yoga
training manual 
International Laughter Yoga Leader Certificate recognised by the Laughter Yoga University of Dr Madan Kataria, Bangalore, India
12 months' follow-up support as and when needed (including a monthly group zoom)
TRAINING DATES IN 2024
Weekend Training – Redcliffe Peninsula – Saturday and Sunday 3 and 4 February, 9am-3.30pm both days. BOOK NOW!!! 
Midweek – Brisbane CBD Thursday and Friday 16 and 17 May, 9am-3.30pm both days. 
TOWNSVILLE – June 2024 – dates to be confirmed. Interested? Let HeatherJoy know! 
Midweek Brisbane CBD Monday and Tuesday 19 and 20 August, 9am-3.30pm both days
TOOWOOMBA – October 2024 – dates to be confirmed. Interested? let HeatherJoy know!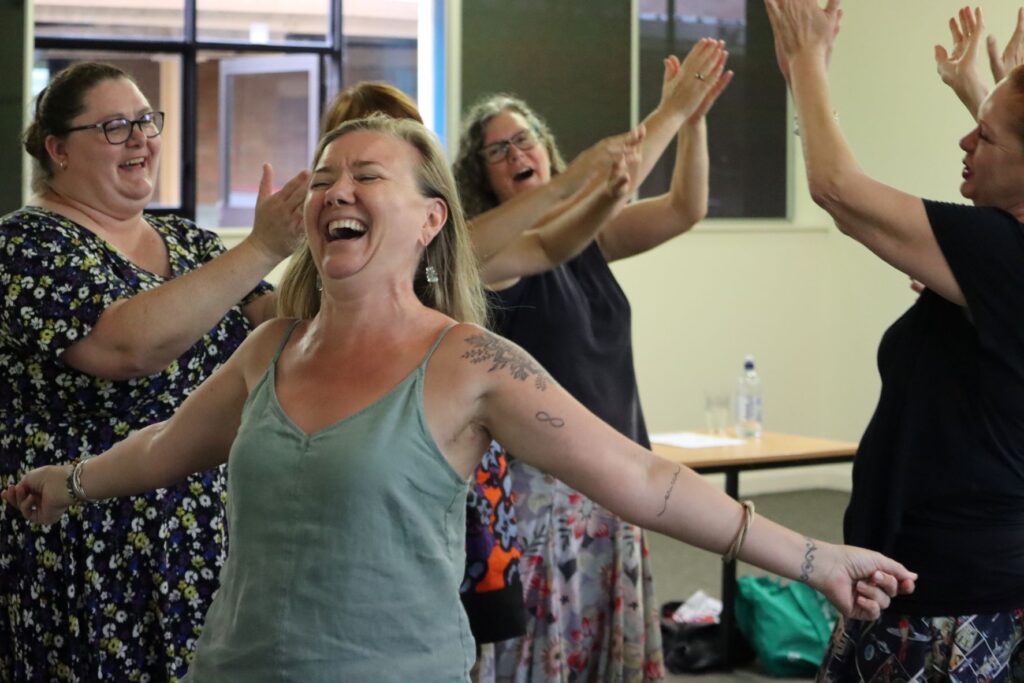 1/2 day Aged Care-specific training
In this 1/2 day professional development workshop for Certified Laughter Yoga Leaders with a minimum 3 to 6 months practical experience,  learn how to provide laughter sessions in aged care centres, respite care centers or one-on-one with frail aged at home.
Emphasis is on understanding this clientele and adapting laughter exercise sessions to effect successful participation for health benefits.
We discuss published research looking at laughter yoga's efficacy for frail seniors.
In this in-person small group workshop, training facilitator  HeatherJoy Campbell also shares her practical hard-learned experiences from delivering in this sector, weekly, over the past 5 years.
Cost of training is $195 inc GST.

IN-HOUSE LAUGHTER YOGA TRAINING FOR AGED CARE DELIVERY
HeatherJoy Campbell delivers an adapted Laughter Yoga training program specifically for people working in aged care.
This is the most sustainable way of embedding joy in the everyday of our treasured elders. See how it works!
This training is delivered onsite for a group of 5 or more aged care workers. It's highly practical too, involving your actual residents.
Talk to HeatherJoy about this approach — or check her availability for delivering regular aged care laughter wellbeing sessions for you (in Brisbane/Moreton regional council areas only),
Can't make it to Brisbane for training but want a laughter club in YOUR community. If there's a real desire to make it  happen, talk to HeatherJoy about bringing the Happydemic to your area.  On her radar for 2024 – Townsville and Toowoomba.
What People Say About Laughter Yoga Training With The Happydemic's HeatherJoy
"I loved being part of this course and know I will be able to use and adapt laughing and breathing techniques to suit the (aged) residents in my workplace."
"I found this training to be so helpful and validating for demonstrating the value and evidence of laughter for wellbeing and health."
"HeatherJoy is a joy! Her enthusiasm and compassion are amazing. I thoroughly enjoyed this course and will apply it to my life everyday."
"Learned a stack, got really inspired. It was engaging, fun and life-affirming."
"This is an action-packed, content-rich program which will only come to fruition through doing. So excited about taking laughter yoga to my community."
For further information about Laughter yoga groups, leadership training, workplace wellbeing programs, workshops and speaking by Queensland's leading professional laughter yoga facilitator, please call HeatherJoy Campbell on 0412 742 593 or email heatherjoy@thehappydemic.com.au