Community Wellness Programs
Whatever your 'community' looks like, surely you want it to be happier, healthier, more resilient and connected.
Who are our community wellbeing programs aimed at?
Community means different things to different people. What's your community?
Your community may be geographic – your neighbourhood or town or local council area.
Your community may be a grouping of people who live in different areas but share something in common. It may be an attitude or a health condition; it could be language, faith, an interest, or something else.
The Happydemic's heart is in community and our principal HeatherJoy Campbell provides community wellbeing programs designed to help your group thrive, rather than simply survive. 
When HeatherJoy first came across laughter yoga, she wondered why it was 'being kept a secret'. She was compelled to learn more, gain skills, and share them. At first, it was enough to share in her neighbourhood but HeatherJoy's isn't selfish: she believes in sharing 'good stuff' with others.
That's how The Happydemic came about, years before the word 'pandemic' was part of our everyday.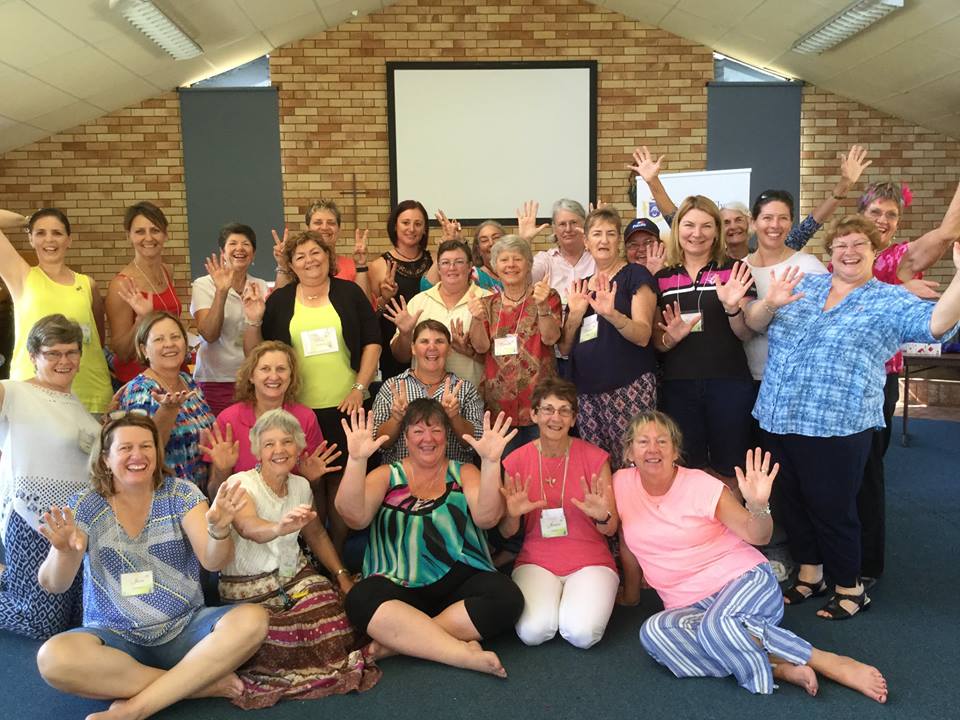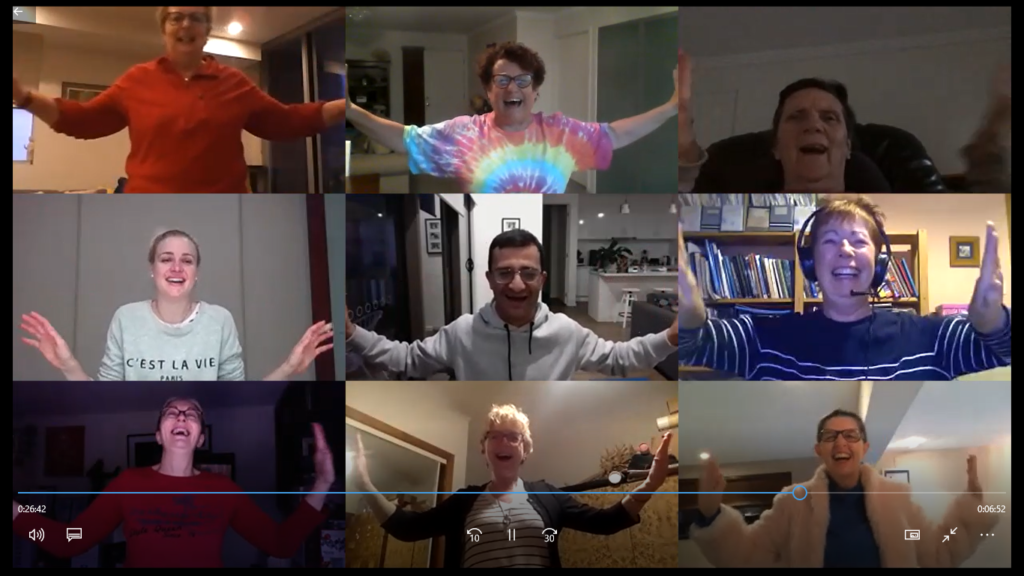 Why Laughter Yoga is Brilliant for Community Wellness Programs
Laughter yoga is adaptable, accessible, and inclusive. It's for all ages and all abilities—and let's not forget that laughter is a universal language.
On top of all that, laughter yoga has proven physical, mental health and social benefits.
The Happydemic uses the therapeutic benefits of laughter through the practice of laughter yoga, as well as drawing on evidence-based science of happiness research.
"Highly recommend HeatherJoy and her sessions for clients/customers or staff. Carers love joining these sessions and have provided wonderful feedback. We identify the benefits of laughter yoga can be far-reaching: physical, psychological and social."
Sarah Bone, Manager Carer Program, Carers Queensland, online
"Our ladies range in age from 21 to over 60 but age had no relevance. HeatherJoy delivered a fun and relaxed session and I watched the stress of the day simply melt off my ladies' faces. The joy that replaced it was invigorating. Heather Joy helped us find the little kid in ourselves and we gained new ideas for stress-busting and mood-boosting in our daily lives."
Anneke, organiser of a women's circle, Moreton Region
For too long, many of us have relegated laughter to fun times and good company – when life is sweet.
The truth is, life can be challenging and stressful, and when life's like that, it may not seem like there's much to laugh about.
That's where laughter yoga comes in. Laughter yoga harnesses laughter as a natural physical function. It combines deep slow diaphragmatic breathing with playful gentle stretches and movement, and intentional laughter.
Mood lightens and brightens  after a one-off session. True change comes with sustained repeated use – as with any skill or exercise.
In this article you'll find 25 proven physical, mental and social benefits of laughter yoga. It is also a serious resilience tool, all of which makes it an ideal inclusion in your community wellness program!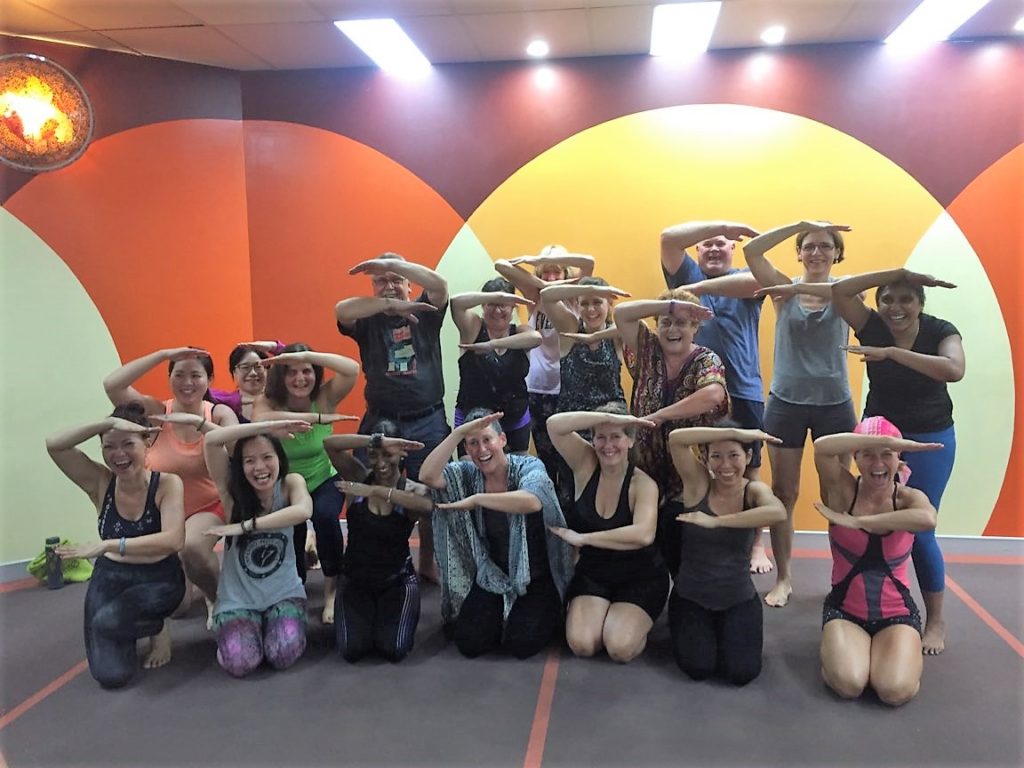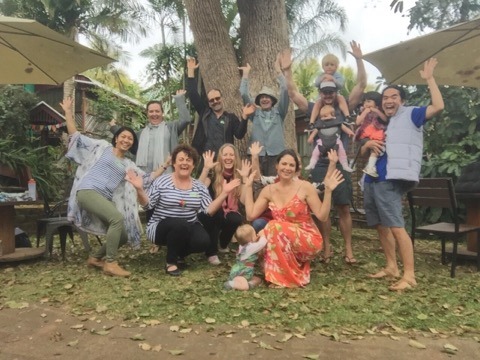 What The Happydemic offers
Did you know that laughter yoga is a technique used within the Wheel of Wellbeing framework that regional Queensland areas like Central Highlands and Townsville are using to build healthier, happier and connected communities? Learn laughter yoga thoroughly for maximum impact.
When you engage HeatherJoy Campbell and The Happydemic, and make laughter yoga part of your community wellness program – shift happens!