In recent months I've had a fun-tastic time delivering regular laughter yoga sessions via a video conference app to carers across Queensland.
We've laughed and stretched and breathed cares and anxieties away – whether for those precious minutes or longer, has to be qualified.
What I do know – what I admire – is that carers have taken time out for themselves. They know the importance of self-care. And so does Carers Queensland.
Who's a carer?
About 1 in 8 Australians care for a family member or friend.
Yet research conducted by the Australian Centre on Quality of Life in 2007 indicates that these unpaid carers have the lowest wellbeing of any population group. While the average wellbeing score of the Australian population is between 73 and 76, the average score for carers is 58.4.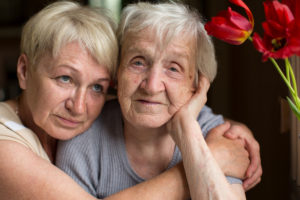 Stress and chronic pain are major influences. Housing, employment, and income concerns can all add to the stress too.
Carers Queensland, in its commitment to providing wellbeing support for carers as well as advocacy, offers a range of online (and in person) activities year-round. The Happydemic's Laughter Yoga is just one. Check out National Carers Week Queensland activities here.
As Carer Program manager Sarah Bone explains: "The aim of these sessions was to provide carers with an opportunity to connect with others and have some fun. We now identify the benefits of laughter yoga can be far-reaching: physical, psychological and social. Carers love joining these sessions."
Why laughter yoga
Laughter yoga is like taking an instant vacation. As an exercise regimen and without relying on jokes or comedy, laughter yoga benefits body, mind and spirits. While one session alone is 'just a bit of fun', repeated participation can gently change mindset to one that's a little less serious. I liken it to flicking a positivity switch. It's also lightly aerobic with a host of physical benefits including improving lung capacity, reducing pain and enhancing the immune system.
Recognising the importance of self-care
It took becoming a carer for me to realise that the best care I could give my terminally-ill loved one could only come when I was healthy and well myself.
Growing up, my family held the view that 'idle hands are the devil's workshop' and that being 'busy' was self-care.
The day I sat in a doctor's surgery after months of juggling kids, carer, volunteering and self-employment responsibilities, absolutely spent, bone-tired, blood pressure off the charts, and weeping— hearing the doctor tell me very directly I needed time out, and hearing myself argue that I couldn't because I was relied upon by others— was the day I started to learn that I could only give the family member I cared for the emotional and physical support required if I was physically and mentally well. I didn't know of Carers Queensland at that time. I hadn't realised self-care was essential—not a luxury—and it came in so many forms: it was about finding balance and not hiding in busyness.
To the 2.7 million Australians estimated to provide unpaid care to a family member or friend who has a disability, is frail aged or chronically ill, please make time more you.
And if you know someone who is a carer, connect.
(c) HeatherJoy Campbell 2020