Just when Australians started to think we'll be able to travel freely through our vast nation for Christmas, word came today that a cluster of 17 COVID-19 cases had been identified in the South Australian capital, Adelaide.
Tasmania, Western Australia, Northern Territory and at the time of writing, Queensland have imposed quarantine travel restrictions on travelers from South Australia.
There's no denying this is dismaying: these coronavirus cases are the first community transmissions in South Australia since April. Victoria's capital, Melbourne, is barely out of its protracted second lockdown, enjoying 16 consecutive day without any new community transmissions. Queensland has been 68 days free of community infection.
Of course we've all seen the news of this insidious virus forcing lockdowns again in the UK and Europe, concerns about Diwali celebrations in India spiking infections and rampant continued growth in the United States of America. But here in Australia, the only new cases, until now, have been people returning from overseas, far away from DownUnder …
Letting down your guard: COVID caution fatigue
 Back in July, I wrote of a phenomenon called 'COVID caution fatigue'.
I'd first heard the term months earlier. As American psychologist Jacqueline Gollan warned, it was natural to be fatigued after prolonged periods on high alert – and dangerous, because with fatigue comes complacency.
Last week, I caught a bus in Brisbane. It was peak hour. Two people wore masks and I wasn't one of them. When I realised my lapse, I foraged in my handbag: my mask wasn't there. That's when I recalled Dr Gollan's words:
"Caution fatigue can put you and others in harm's way."
I get how challenging 2020 has been. We've been on an emotional rollercoaster, and we're still on it: when will we see friends and family who live interstate or overseas, what's happening with work and the economy etc. No wonder health professionals warn there's an epidemic of mental ill-health too.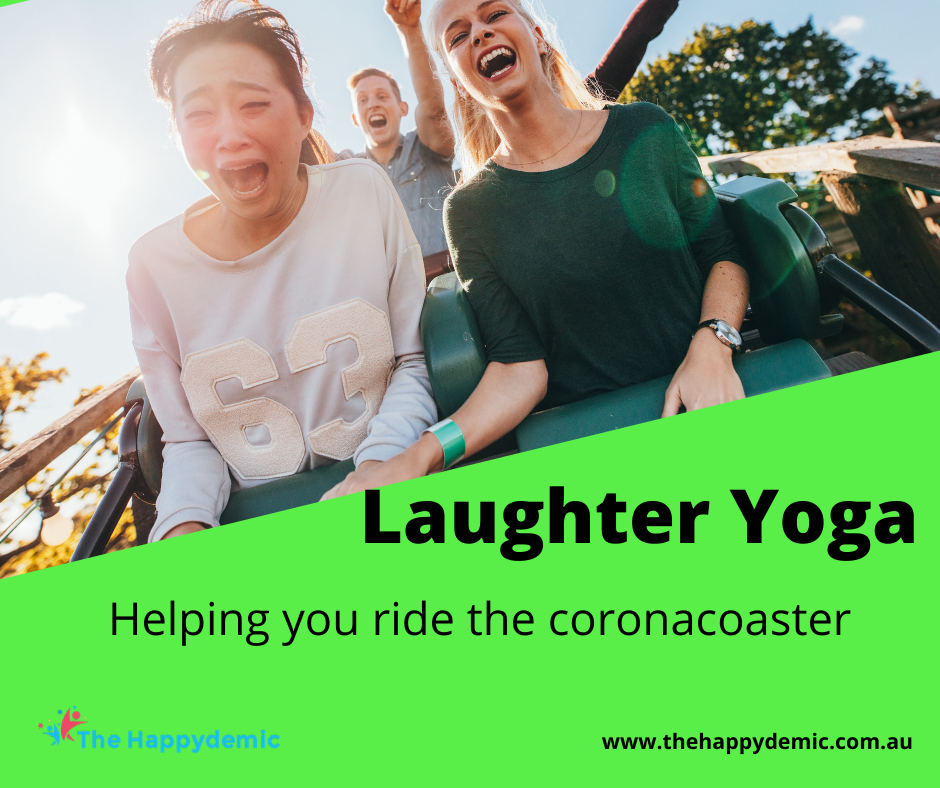 How to address COVID caution fatigue
The primary means of addressing COVID caution fatigue is to reduce our activation of the stress hormone cortisol. 
My recent article on science-based resilience actions captures the importance of:
self-compassion
meditation
changing the narrative, along with forgiveness and facing our fears.
Other suggested ways to address COVID caution fatigue include:
staying physically active
practising gratitude
staying connected with others while maintaining physical distancing
eating sensibly
getting fresh air and sunshine
redefining those things we love and miss within the guidelines
being mindful of the collective good
using mind-body exercises to rebalance thinking. 
My favourite mind-body practice is, of course, laughter yoga. When you're laughing, you cannot be anxious or depressed. Worries and fears are banished for a while.  You relax.
Laughter yoga combines movement, and deep breaths, and playfulness. It nurtures the parasympathetic side of our autonomic nervous system, restoring balance.  Through laughter yoga, we also strengthen resilience. Our immune system benefits too.
While effectively practised in groups, face-to-face, for 25 years, laughter yoga has found its place as a beneficial online exercise practice too. 
In laughter yoga, we are encouraged to breathe deep and stretch, to clap and play (and laugh). We are encouraged to be less serious. And that may be just what's needed to maintain our vigilance and wellbeing.
(C) 2020 HeatherJoy Campbell
HeatherJoy Campbell is Queensland's leading professional laughter wellbeing facilitator and trainer, using the platform of laughter yoga to deliver wellness sessions to communities, workplaces and aged care centres, in person and online. Brisbane-based, she has certification to train others as laughter yoga leaders and has been appointed a global ambassador for Laughter Yoga International.