Laughter Yoga classes are back as part of Moreton Bay Regional Council's Healthy & Active Moreton program.
Healthy & Active Moreton provides an avenue for residents of Moreton Bay Regional Council to be more active, more often, taking positive steps towards a healthier lifestyle through an exciting range of fitness, recreation and sport activities and workshops.
Laughter Yoga is very much a part of working towards that goal.
Weekly on Wednesdays, right through until December 7, The Happydemic's outdoors group Laughter Yoga classes will be held in Bicentennial Park, Woody Point. Look for The Happydemic flag when you enter the car park near the playground and Parkour park.
The #HealthyActive Laughter Yoga Wednesday group sessions start at 10.15am.
What happens in a Laughter Yoga class?
A Laughter Yoga class includes warm-up exercises, clapping, chanting, playful gentle stretches and moves all done while laughing out loud.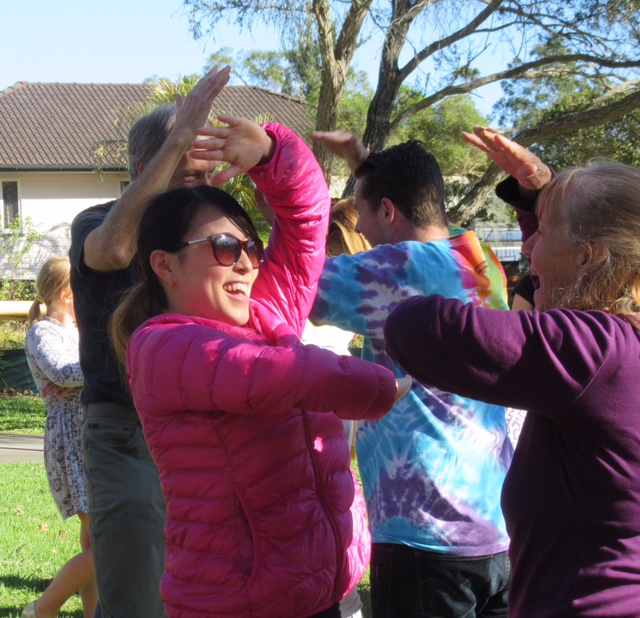 Laughter exercises are interspersed with diaphragmatic breath exercises.
The sessions conclude with laughter meditation and awareness of our breath.
Who is Laughter Yoga suitable for?
Laughter Yoga is an accessible adaptable exercise practice suitable for all ages and abilities.
Maybe you want to feel less stressed or less depressed or less lonely.
Perhaps you simply want to get out in the fresh air, make friends, and laugh!!!
'Exercise' may even be a dirty word in your vocabulary, but you've been told to move more. Laughter Yoga is so much fun, it doesn't feel like exercise.
Does laughter yoga have real health benefits?
Sure, you can come along once 'for just a bit of fun' and enjoy the experience and feel good – but there's so much more to Laughter Yoga than that.
Laughter Yoga, also known as hasya yoga, has proven physical and mental health benefits. These include boosting the immune system, lowering stress, lifting mood and sharpening focus and energy levels while helping you relax. Read about more health benefits.
Laughter Yoga also helps build social health, restoring a sense of connection with others and banishing loneliness.
What to bring
A Healthy & Active Moreton Laughter Yoga class costs $4 per person.
Wear comfortable clothes for movement and a hat. Bottled drinking water is highly recommended. You may want to use a yoga mat, beach towel or folding chair for the cool-down part of the session.
Do I need to book?
You don't need to book into your Laughter Yoga class with HeatherJoy and The Happydemic. You can just turn up. By following The Happydemic's Facebook page, you'll see updates such as cancellations caused by rain (or sickness in these COVID times).
Need to know more? Contact Heather Joy.right through to