A few days before Christmas, I took a day off work to go to the beach, an hour's drive from home, with my son.
It was his birthday and he wanted to go paddle boarding.
So what, you may well wonder. Parents do that for their kids…
The difference was that this was my son's 25th birthday. He had a rostered day off (he's an emergency health professional) and he wanted to spend time paddle boarding with his mother before going out with mates for drinks in the evening.
I had never tried stand-up paddle boarding before: it's something he does regularly. I quickly learned I could not giggle and laugh and stay on the board at the same time. I sploshed into the waters of Pumicestone Passage many times before getting the hang of standing tall and focused, calm and steady, attuned to the movement of the water below my feet.
That day created a memory I will hold onto forever. I wasn't just happy: I was joyous. And I will forever be grateful.
Not just grateful that my son wanted to share his time with me but also for the patience and humour he exhibited which I'm sure his patients benefit from also; for the stunning environment in which we live; for the skill of an orthopaedic surgeon who gifted me the chance to walk again, albeit with a slight limp, 16 years ago (I have emailed him a SUP photo: he only told me not to rock climb or swing from chandeliers!).
Not every day in life will be amazing. Some days may seem hum-drum. Yet if we care to look at life through a positive lens, every day will throw up at least one thing for which we can be thankful.
It may be finding a car parking space within minutes of arriving at the shopping centre for the post-Christmas sales.

It may be turning on a tap to fill the glass with drinkable water instead of walking miles to a well.

It may be knowing how to laugh unconditionally, without comedy of humour – or even company – through the practice of laughter yoga.

It may be simply that we woke up and it is a new day.
When 31 December 2017 rolls around, I look forward to up-ending my gratitude jar and reflecting on the 365 reasons (at least)  I had to be thankful.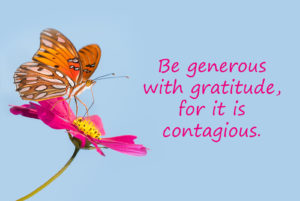 Blessings for 2017, yours in laughter wellbeing, Heather Joy.
(C) Heather Joy Campbell 2016