What is laughter yoga like? Brisbane journalist Lauren Baxter recently visited The Gap Laughter Club to find out and report for the Australian independent quarterly magazine Peppermint (Autumn 2021).
Lauren turned up unannounced—which is absolutely okay: there's no need for an RSVP!—and found herself enveloped in the weekly laughter yoga joyfulness experienced at The Gap Laughter Club.
While it's called a 'club', laughter yoga groups don't fit the typical 'club' image in Australia: there's no membership fee, no plan, no paperwork (other than sign in in this COVID age we live in). You turn up to participate willingly, of your own volition. There's no pressure to be there every week because that negates the ethos of laughter clubs as stress-busters.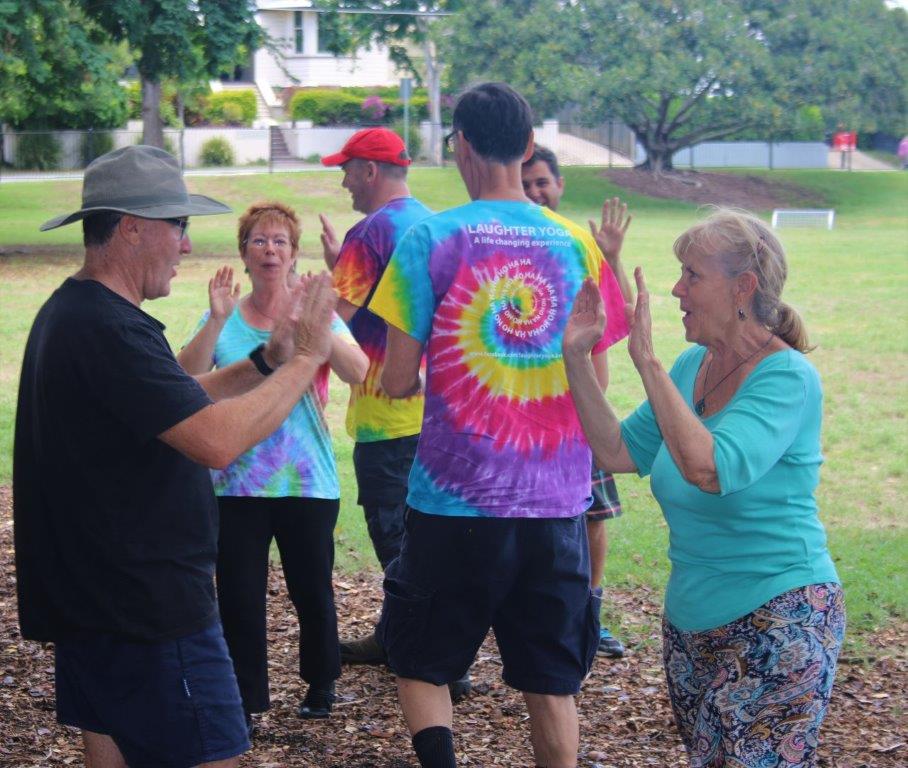 Lauren was one of a few first-timers to come to our laughter club that weekend – Saturday morning at 9am – so we introduced ourselves laughter style when we gathered in a circle: "I'm HeatherJoy hahahhahah…I'm Lauren wheeeee…."
What is laughter yoga
Laughter yoga—also referred to as Hasyayoga—is one of a myriad of yoga derivations.  Laughter yoga was developed by Indian physician Dr Madan Kataria and his yogi wife Madhuri in 1995. Laughter yoga borrows breathing techniques from yoga and blends these with a series of simulated laughter exercises, sustained for about 20 minutes, wrapped up with a grounded meditation.
What is laughter yoga like?
In journalist Lauren Baxter's experience, reported in Peppermint Autumn 2021 issue, laughter yoga is very much 'follow the leader for grown-ups".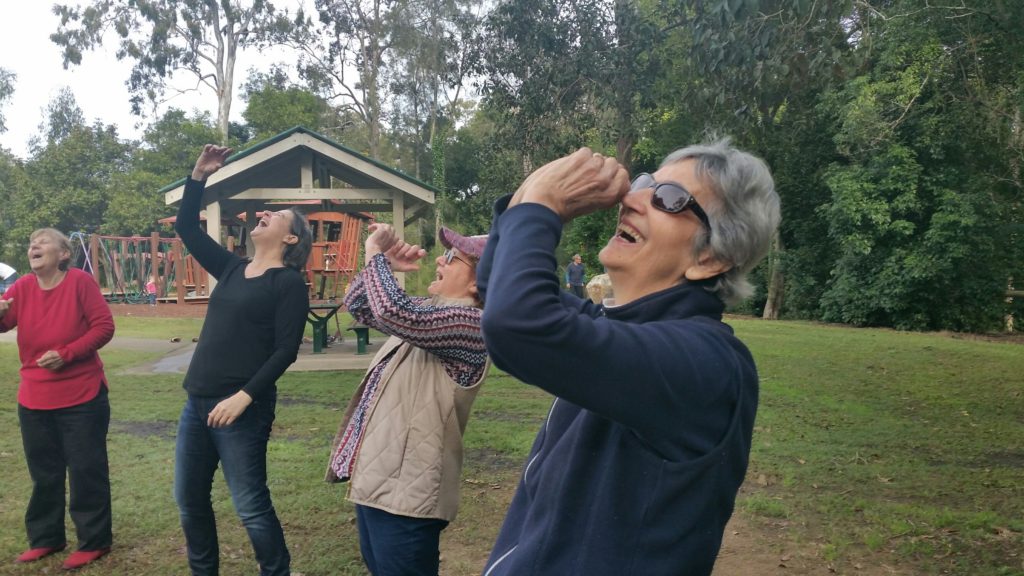 Yes, as Lauren experienced, it can feel forced at first – and then it flows. As she wrote: "the joy radiating from HeatherJoy … is so infectious you can't help but smile. The situation is so ridiculous you can't help but laugh."
I remember that feeling. Lauren's observations were not much different to mine almost a decade ago!
As Lauren also wrote, it was:
"a relief to get out of my head, free from my usual anxieties and laugh with no inhibitions, I try not to take myself so seriously."
It is wonderful to know that she was still smiling long after the session, inspired by the overwhelming sense of connection created, and the power of people.
How do I find a laughter club?
If you'd like to have a go at laughter yoga, this page has details of physical laughter clubs in Queensland. There are laughter clubs online too.
(c) Heather Joy Campbell 2021
Founder of The Gap Laughter Club and social enterprise The Happydemic, Heather Joy Campbell, is a Global Ambassador for Laughter Yoga International.