For almost 30 years I've worked as a professional observer of life: a journalist.
I've reported on major political upheavals and medical breakthroughs. I've written about fantastic people doing amazing things.
But just because I've written about something hasn't necessarily meant I've experienced it, just as being a former media advisor to a conservative state premier didn't mean I was a card-carrying party member. Mind you, V8 champ Craig Lowndes (pictured, above) did make sure I knew what it was like to zoom from 0-100km in 3.8 seconds!
A few years back, I called Geelong-based chuckling executive officer of Live Life Laughing Phillipa Challis for some background on an article about laughter yoga. At the end of a very long phone call, Phillipa challenged me to give it a go and I was inclined to laugh it off literally.
I didn't though. Instead, I found myself a few days later in the popular inner Brisbane New Farm Park, in search of 'laughers'. New Farm Park is a very popular destination on a Saturday morning. There's always a throng of weekend farmers' market shoppers, energetic Zumba dancers and personal trainers running boot camps. On this day, picnickers were already stretched out in the shade … and there, near a bright yellow banner tied around the park's giant Moreton Bay fig tree – reminiscent of 'Tie a Yellow Ribbon Round the Old Oak Tree', I found a small cluster of people, quietly chatting.
"Oh great, these people look like a barrel of laughs, not," the cynical me thought, preparing to keep on walking.
But I'd been spotted. "Are you here for laughter?" a woman asked. I nodded, momentarily at a loss for words. ''Welcome laughter virgin!' grinned a tall bloke with a twinkle in his eye. Before I had a chance to run, the clock struck 10 and the laughter yoga session began. Although Phillipa had already explained the background to laughter yoga — developed by Dr Madan Kataria in India in 1995 as a healthy exercise for body and mind, blending yogic breathing, gentle stretching and simulated laughter – I listened intently, willing myself not to turn on my heels as the session started.
'Ho ho ha ha ha' we clapped, moving around in a small circle, gradually picking up pace.
'Forgive and forget', we whispered as we stretched up tall and then slowly lowered on the exhale.
We greeted one another with a handshake, hands and eyes locking with a forced laugh. It was at some moment during that exchange that I stopped wondering what others might think of me laughing in the park, and I stopped worrying about 'stuff' that was going on in my life and I allowed myself to experience the moment.
In what seemed like the blink of an eye, Sandy was announcing the last exercise. Where had the past 45 minutes gone?
I felt fabulous. Energised. When I arrived home, Dearly Beloved commented on my 'radiance'.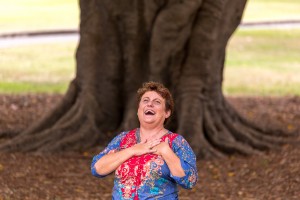 Laughter exercise is part of my daily life. All because I turned my inner cynic off and opened my mind to try something a little 'out of the box'. I'll never know why I acted on Phillipa's words.
All I know is I'm very glad I did.
(c) Heather Campbell aka HeatherJoy