Recently, I was asked to run a laughter yoga session for a small group of carers.
The women had been whisked away for 48-hours respite to the Gold Coast, all expenses paid.
After 30 minutes of laughter exercises on the beach at Surfers Paradise, I asked them to lie on their backs, eyes closed and push away thoughts of anything but their breath.  I then guided them through deep meditative relaxation, willing their worries to melt into the sand supporting their bodies.  When the time came to open their eyes and sit up, I was in the company of a very different group of women.  Their faces were relaxed and glowing, their eyes were brighter, their voices lighter.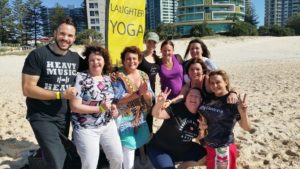 I felt so privileged to witness that change. Oh to be able to bottle it up so that they could take a 'whiff' on demand!
Of course it's easy to say 'practise every day'. The reality is most carers will not because of the overwhelming number of things in a day they must attend to before seeing to their own needs.
It's Carers Week in Australia (16-22 October). In Queensland today 484,400 people will provide unpaid care and support to a family member or friend with a disability, mental health problem, terminal illness, chronic medical condition or frailty.  
 I've just read Carers Australia Queensland's Quality of Life Audit report (updated 2019) and it is sobering stuff: a litany of failings unchanged in the past 6 years – inflexible working conditions, limited access to flexible education and training and information about 'how to be' a carer, lack of respite options. Then there's the fear of what is next around the corner; and exhaustion. All is not well for the carers who are responsible for 74% of all the care and support provided in Australia, supplementing stretched funded services. 
One in 11 Australians will become unpaid carers of a loved one at some point: child, spouse, parent, extended family member or close friend. 
I have been one. I well remember what it was like being 'on call' 24/7 and feeling totally out of my depth as, over 3 years, Mum became sicker and sicker (and more stubborn and fractious the more frail she became).
At least I had laughter yoga in my life before the grimmest times came. I wasn't Mary Poppins looking at everything positively positively all the time—not by a long shot: ask my kids and husband!—but I coped better by being able to laugh when I felt there was nothing to laugh about.  In those minutes of chuckles, I was healthier and happier and ready to keep going.
Did you know that as a certified laughter yoga teacher I run training workshops on demand as well as laughter yoga sessions tailored to client needs?  I also present at conferences — both workshops and icebreaker sessions introducing laughter yoga to participants. This might be just what your carers need… Let's talk.
(c) Heather Joy aka Heather Grant-Campbell, 2016